What is a personalised Wealth Report?
Simply put, it's a snapshot of where you are today and where you will be tomorrow financially.
By using the free Wealth Report platform you to can create a personalised document summarising your finances, assets, expenses and much more. It will also track your goals and net wealth towards retirement. This easy-to-use online tool allows you to use your own data to help you understand how you are travelling financially.
From there, Wealth Report can help you…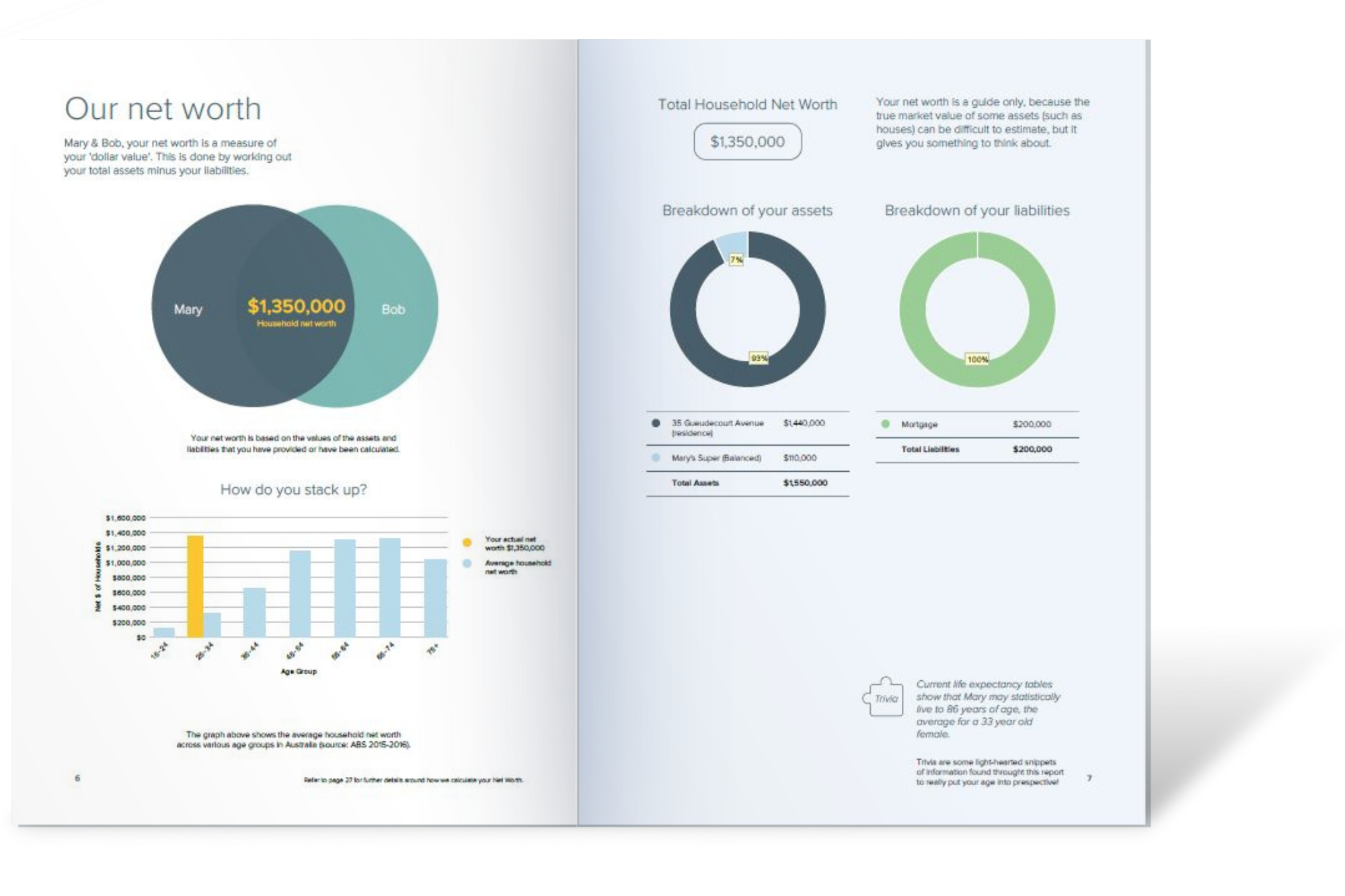 Your Wealth Report can complement the research that you have already done by helping you to see what you could be doing better, and where your biggest opportunities lie. Starting with your…
GOALS – Are they achievable, am I on track, can I do things differently?
A great way to do this is by evaluating your current financial position, assessing your options, and adopting a plan. Building a Wealth Report is the first step in doing just that. Once you have your report, we're here if you need help to guide you through the rest.
How you decide to build your future, is up to you.
See it for yourself.
Take a look at this example Wealth Report Document
So, why use Wealth Report?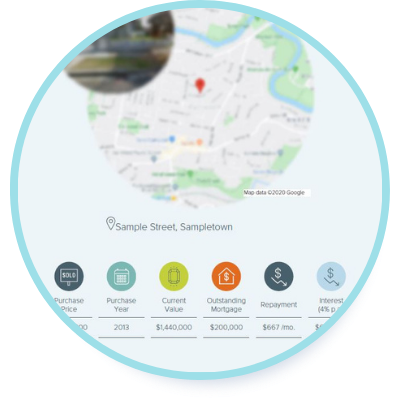 Well, besides the fact that we think it's a really neat piece of technology, we also think it's a great place to start for anyone looking to improve their financial resolve.
While there are plenty of other apps and templates out there, we think this one is the best – hands down. It was even awarded the 2020 Best New Advice Technology Application by Investment Trends.
More importantly, it has bank-like security. So all your data is secure and safe.
So 'why is it free?' you ask. Well, at Finspective we believe in empowering people with the tools and know-how to control their own future and achieve financial freedom. Making this, the ideal tool.
Whatever you decide, you're free to use the Wealth Report however you like.
Start your Wealth Report Personalised report
Whether you're married, single or preparing for retirement, all the data you enter is used to calculate and build a unique Wealth Report based on your personal circumstances. See future
projections
Can you afford that renovation? What if you cut back on expenses? Add in goals and scenarios to see how you'll be financially in 5 years or at retirement with industry-leading modelling to project your future. Discover your
wealth
No need for calculators, Wealth Report will crunch the numbers for you! Enter your information once to discover your net worth, your projected future wealth, and how long your money will last into retirement. Obligation
& cost-free
That's right. It's totally free to use. You can download your Wealth Report Document at any stage in the process. If you need help, you always have the option to speak to an advisor at your discretion. It's completely up to you.
Creating your Wealth Report
The whole process of creating your Wealth Report document is simple, fun and can be done in under 20 minutes. If you haven't already, use the button below to access the coupon code and link.
From there login and start what we like to call – the Wealth Game – A drag and drop process to fill in your information. You can even add your life goals such as a family holiday or retiring early. This will help you determine if you're on the right track.
Check out the video for a quick tutorial and to see what you can get done in 5 minutes.
Start your Wealth Report
Want to know more?
You probably still have a lot of questions. That's understandable. To help, we've put together some frequently asked questions people have about using Wealth Report. If you are after more information, don't hesitate to shoot us an email at hello@finspective.com.au; or message us via our Contact page. We'll be happy to answer any further questions you may have.
Why is it free? 
It's all part of the service. At Finspective, we believe in providing people with the tools and know-how to control their future and achieve financial freedom. Not only is it free, but you also have no obligation to take further steps after you receive your Wealth Report document. We want you to feel comfortable before seeking advice.
Is there any further advice available?
Certainly, that's what we are here for. At any stage, you can ask simple questions through the app and one of our advisors will get back to you with an answer. If you're looking for more detailed advice, it's always best to book a face to face chat. Don't worry; the first consultation is always free. You can book a quick chat with one of our advisors using this link.
What will the Wealth Report include?
When you're done populating all your data, you will be able to download your Wealth Report; with over 20 pages of personalised data. The document includes, but is not limited to, a comparison to others your age, a summary of your current finances, your net worth, future projections at retirement based on assumptions and even a property value estimation. Check out this Example Wealth Report document.
Is my data secure?
Completely! You can feel confident your information remains confidential and secure. The site owner Wealth Central Pty Ltd. ACN 158 016 258 uses the same encryption and physical security banks use to protect your details. We cannot view your personal information unless you select the option to allow a qualified financial advisor from our team to view your data and contact you to discuss the outcomes.
Is it easy to use?
Totally. We like to call the process – the Wealth Game! It's a simple drag and drop platform with easy to understand icons. Check out the video above to see what you could achieve in 5 minutes.
How long does it take?
You can get a lot done in 5-10 minutes and view a partial report and any time during the process. However, for a complete and detailed Wealth Report, populating all fields should take around 20 minutes, depending on your family size and circumstances.
Can I save and come back to answer any questions later?
Yes. One of the best things about this is, you can save your progress by creating a login and password at any stage. This allows you to come back and complete any parts later.
What if my financial circumstances change?
That's ok. If your circumstances change, you can simply log back in and update your data. From there, you can recreate your Wealth Report document. It is recommended you speak to your advisor at this stage.
Why is it better than the other sites?
Other sites ask you to fill out many different calculators; superannuation calculators, mortgage calculators, pension calculators. With Wealth Report's integrated approach, fill out your information once, and it will apply all the appropriate calculators to fit your life.
Who should use Wealth Report?
Anyone looking to have a better understanding of their financial future. Not just those looking to retire in the near future, but young families and singles will also benefit. It is always better to have an understanding of your financial progress sooner rather than later. Time is a powerful tool.