The big tip
Like every financial adviser who bumps into a new face or a friend in a social setting, I'm sometimes provided with an opportunity to show off my professional talent. At some point, somebody will linger nearby, awaiting their chance to get solutions to the world's financial mysteries as they nervously anticipate my answer to their grand question…… 'any big tips?'
Historically, the reaction to my response is palpable – a big collective sigh of disappointment and rolling eyes as I spurt out, 'get a quality income protection policy.'
I get it; everyone hates insurance – even I hate insurance! So, I've started to change the narrative to the 'employment contract option.' By replacing the negative connotation of insurance with lifetime goals-based thinking, logic seems to show that Income Protection is well worth considering.
The sick leave for life option
Imagine if employers offered a second salary option to employees.  Under this option, an employee would receive additional sick leave for 80% of their normal income until retirement if they could never work again.  In return, the employee would get paid slightly less per annum if they never got sick. 
The options may look like this:

Would you choose option 2?
While employers are yet to offer this option, insurance companies essentially provide a like-for-like solution – Income Protection.
I've calculated the average income protection cost for a 40-year-old who earns $100,000 as 1.35%. In return, the insurance company will cover 80% of the injured or ill person's salary package until age 65. In essence, this is sick leave for life. 
Lifestyle goals are tough to achieve without employment income
I've found that almost everyone has the same three big-ticket items that they want to achieve throughout their lifetime. These include owning their dream home, working on their terms, and leading a comfortable lifestyle with all of the bells & whistles that their family deserves. 
I think that cash inflows are the most critical component for an individual to meet their financial goals. Employment earnings are the most significant cash inflow over a lifetime for the majority of people.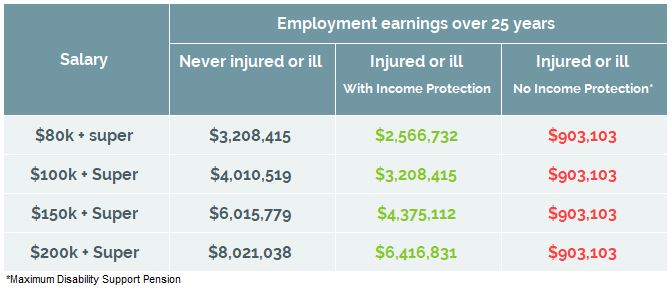 As the table shows, employment income is the biggest asset most people will have in their lifetime (including the family home).  It also shows that relying on government support to fund a dream lifestyle is perhaps a little ignorant.
If this is true, then there are actually three certainties in life; death, taxes, and it is close to impossible to achieve any of these without the bulk of an individual's lifetime employment earnings. 
What else is essential to know?
Let's be honest; reading more articles on insurance will eventually become tiring. So, here are some quickfire must know points: 
Get it before October 2021. Really! 
Would you believe that insurance companies have lost billions of dollars due to successful income protection claims? From October 2021, providers will not offer the current high-quality policies that are available today. However, any retail insurance contract is likely to be guaranteed for life if taken out before the changes occur.
Cover through your employer / Industry Fund insurance (Group insurance) 
This automatic cover gives many people a false sense of security. Put simply, if you didn't apply for it, you shouldn't rely on it, no matter what your colleagues tell you! 
Costs vary 
Costs depend on five key factors; age, occupation, gender, health & how much cover you want. The majority of individuals can tailor their premiums to 0.5–4% of their annual salary. In most cases, premiums are tax-deductible. 
If you want some more information relevant to your own personal circumstances, please feel free to touch base. 
The views expressed in this publication are solely those of the author; they are not reflective or indicative of the position and are not to be attributed to the Advice Licensee. They cannot be reproduced in any form without the express written consent of the author. This information (including taxation) is general in nature and does not consider your individual circumstances or needs. Do not act until you seek professional advice and consider the relevant Product Disclosure Statement.